13-National Earthquake Safety Day, 2011, Nepal
In the context of National Earthquake Safety Day, in Nepal, everyone will definitely recall the disastrous and horrific experience/narration of the 1934 Nepal -Bihar Earthquake measuring M 8.4.......claimed more than 8,500 lives at that time.........occupants of the irregular shaped buildings felt twisting during which most of them collapsed........ground fissured with springing of water upto 10-12 feet high.......roadways fissured with depth even upto 13-15 ft. and measuring several kilometers in length......at places ground subsidence of 2-3 feet was observed......massive landslides occured in hilly areas......
1934 Nepal-Bihar Earthquake
General Description of Earthquake
Location of Epicenter & Fault Zone
General Description of Earthquake

The Historic Nepal - Bihar earthquake measuring M 8.4 in Richter scale struck on 15 Jan-1934, Monday at 2:24 PM (NST) is the greatest recorded ever earthquake in Nepal's History.  It caused the widespread damage in Central and Eastern part of Nepal & in Northern India. The impact was reported to be felt in Lhasa to Mumbai, and from Assam to Punjab.

&&& &&&&&&77&7&

(Before Earthquake) &&&&&&&& &&& &&(During Earthquake)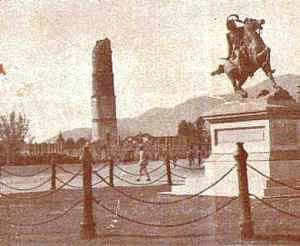 (After Earthquake)
Fig-1 (Images of the then Dharahara, a nine-storeyed tower at Sundhara, Kathmandu; Before, During and After 1934 Earthquake. Only four storeys were left) Image Courtesy : Nepal Ko Mahabhukampa by Shree M. J Brahma Sumsher

Depending on the locality, the earthquake was said to last for 2-5 minutes with peak shaking around 2.5 mins after the initiation of earthquake. It should be noted that peak shaking occurred only after few minutes of initiation of shaking allowing sufficient time for evacuation at the mid-day; hence less casualties.
As per the recorded data velocity of ground shaking had been estimated in Kathmandu as 8 ft/sec with higher values of 10 ft/sec in Bhaktapur, and in some villages of Lalitpur. Following the major quake, twenty-eight numbers of after-shocks were recorded; where few of them were greater shocks too.
Location of Epicenter & Fault Zone

Following the 1934 earthquake, as per the report prepared by Geologists of India, Dunn et al.; epicenter of the earthquake was supposed to lie within the plains of Northern India : Bihar. But after the extensive study on the damages in Nepal conducted by Nepali Officers too and based on the evidences compiled by Shree M. J Brahma Sumsher, later it was relocated within Nepal.
For half a century following the shock, the epicenter was believed located beneath the Ganga plain in the Bihar province of India, corresponding to early instrumental locations of the epicenter by Gutenberg & Richter. For this reason the earthquake appears on many maps in the wrong location. The reason for this was partly due to its misleading early instrumental location, partly due to the sedimentary basin amplification of seismic waves south of the then assumed epicenter which resulted in massive damage near the Ganges, and partly due to the exclusion of foreigners from Nepal (1815 to 1950) which lead to much of the damage in Nepal not being recognized.
Causes behind Misinterpretation in location of Epicenter

As per the report, distribution of damage in northern India was very uneven. Most of the damage was due to slumping, fissuring and tilting of the ground.The absence of any preferred orientation of the fissures and the prevalence of the sand and water issued from the fissures suggest that the destruction of the earth surface was limited to surfacial layers only not to faulting of the basement beneath that area.  Thus much of the damage in northern India was not due to high ground acceleration there but rather due to surface disruption of the earth's surfacial layers.

Also, the strong emphasis on the destruction in India left the impression that epicenter of 1934 Bihar-Nepal earthquake laid not within the Himalaya but south of the range, in the plains of India. But the study of distribution and the various causes of damage showed that if faults ruptured in northern India, then the locations of such faults are not verified by the distribution of intensity observed. Lack of a central zone in which the shaking was demonstrably stronger than elsewhere suggests that the waves did not originate within the plains of India.

Kathmandu valley was severely damaged in that earthquake. However buildings built on Bedrock survived well than those built on unconsolidated sedimentary deposit available at most part of the valley. Tilting and slumping of the houses were entirely absent. Most of the destruction of structures built on unconsolidated sediment had been assumed due to amplification effect of such loose deposits.  

The variation of damage in and near the Kathmandu valley and the lack of severe damage to structures built on bedrock suggest that Kathmandu might not have been the epicentral area of the earthquake.

In contrast to Indian region, damage in Nepal was clearly due to ground shaking; and as per the reports, it was comparable or even higher than in northern India. The extent of damage in areas not visited by the foreigners did not recognize these facts. Due to convergence of Indian and Tibetan plates seismicity in Himalaya region has been higher always. Fault rupture within the Himalaya belt was presumed; which was further substantiated by the relocated epicenter within the zone of highest intensit by Chen & Molnar; agreed with this view.
 
Based on these evidences, it was concluded that the rupture zone; hypocenter and thereby the epicenter laid beneath the lesser Himalayas and not beneath the plains of northern India. Also, the length of rupture zone along east-west had been estimated as 200 ± 100 Km. Minimum rupture length had been estimated as 100 Km.
Damages & Casualties were reported to be higher in Nepal than in India. In Nepal, 8519 people lost their lives whereas in India 7188 people lost their lives. Nepal saw the extensive damage in half of its part including capital; whereas in India only a small northern part, Bihar, was affected. Even in Bihar province, affected parts were northern and central areas.
Destruction in Nepal
In Nepal, Damage was mainly destructive in central Nepal, including Kathmandu valley & Eastern part of the country. Western part of the Kathmandu suffered relatively less damage. Zones like Dharan, Sindhuli, Udayapur and Bhojpur were severely damaged. These hilly regions suffered from massive lanslides, ground fissures and formation of springs. Whereas areas like Dhankuta, Sindhupalchowk, Rasuwagadhi, Chainpur, Taplejung also suffered damage. Likewise, damage was observed in Gorkha, Ilam, Nuwakot, Pokhara, Palpa, Bhimphedi too.
Along the Terai belt, destruction was observed from the eastern border of Nepal to Chitawan. The worst damage in Terai was observed in Siraha and Saptari Districts. Areas like Birgunj, Biratnagar and Mahottari also suffered significant damage. In few cases, buildings were subsided by 3-4 feet too. Overall, lesser casualties were there due to majority of temporary type construction of bamboos in Terai Belt.
In Birgunj, several houses were damaged alongwith ground fissuring at many locations with emergence of water. Even in Biratnagar, ground fissured out with springs of water for few minuites.
Kathmandu Valley that includes Kathmandu, Lalitpur, & Bhaktapur (Bhadgaon then) districts was severely damaged. Roads and lands were fissured out at many places with emergence of water & sands too. At places, even the water sprigs out about 10-12 feet from such fissures. Floods were there in the rivers carrying dirty waters. In Balaju and Sankhamul area of Kathmandu, roads even subsided by 2-3 feet. Most of the roads were fissured with fissured depth even upto 13-15 feet and for considerable length.

Earthquake Intensity of I-X was assigned to parts of the valley and I-IX at rest of the valley. Over 70% of the building collapsed in Kathmandu. Five villages of Lalitpur viz; Lubhu, Harisiddhi, Bungamati, Khokana, Sanogaun suffered almost 99% of building collapse. Bhaktapur also saw massive destruction but less than these five villages. Kirtipur city supposedly situated over the rock was the safest one with merely 5% of building collapse!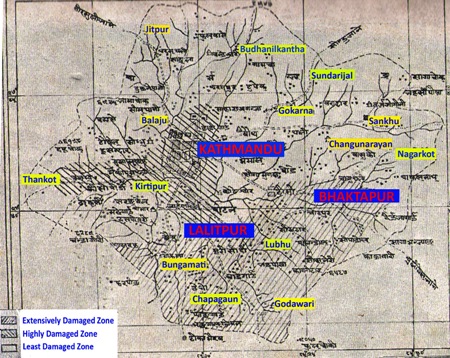 Click on the Image for the Enlarged View
Fig-2 (Map of Kathmandu Valley showing intensity of damage occured in 1934 Earthquake. Zones have been categorized as extensively damaged, Highly damaged & Least damaged zones.) Image Courtesy : Nepal Ko Mahabhukampa by Shree M. J Brahma Sumsher
Northern part of Kathmandu including Budhanilkantha, Sundarijal, Gaucharan was found relatively safe and suffered only minimum damage. Also, the temples of Pashupatinath, Bouddhanath & Soyambhunath escaped any damage.