What to do during an earthquake ?? (Safety measures during earthquakes)
Various models on earthquake safety are available for the protection during quakes. Three such safety approaches are widely discussed here that could be adopted during earthquakes;


Drop, Cover and Hold on (DCH)
Triangle of Life (TOL)*
Safe Evacuation

(* Not aunthenticated by rescue agencies)

Also, as a precautionary measure, the following preventive method is available before an event of earthquake strikes;


Seismic Retrofitting (as a Prevention/Precaution)


Seismic Retorfitting is the most recommended approach as it strengthens weak buildings; hence, prevents building failures during earthquakes. Earthquake Safety Assessment (ESA) is carried out to know whether a building is safe one. Only if, a structure is retrofitted or found safe in ESA, adoption of former three approaches will be useful. Following describes the suitability of the above three safety approaches in our context.


Which method is suitable to us if an earthquake strikes ?
It is the protection method promoted by the Red Cross Society, US. In this method, it is advised to "drop" to the floor, take "cover" inside the sturdy objects as Tables, Desks, Chairs or Furnitures and "Hold on" to it firmly till the shaking stops (refer Figs-1 below). If there isn't a table or desk near to you then it suggests to cover face and head with your arms and crouch in an inside corner of the building. By hiding like this, you can protect yourself from the falling non-structural elements as light partition walls, ceiling fans, cupboards, flying window glasses, false ceilings and other utilities. This method works on the assumption that building is strong enough to resist earthquake so that no chances of building fall or collapse is there.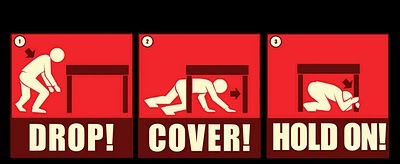 (Figs 1 : Schematic and practical demonstration of Drop, Cover and Hold on, DCH, approach)
Following the two major quakes in US; Loma Preita (September, 1989) and Northridge (January, 1994) in California, it was seen that large number of people were seriously injured from falls caused by the people trying to get out of their homes. People suffered broken bones and serious cuts when then ran barefooted over broken glass panes. In the meantime, out of millions of people in each of these earthquake-affected areas, many of them reported to have adopted "dropped, covered, and hold on" during shaking. Total casualties in those earthquakes were 63 deaths (3700 injuries) and 57 deaths (1500 serious injuries) respectively. Number of deaths were quite less than injured in those two major quakes !
Engineering researchers have demonstrated that in US very few buildings collapse or Pancake* as they might do in other countries. In such, most of the danger to human lives is not due to structural collapse but is due to falling objects and out of falling as mentioned above in stampede while escaping. In this context, DCH approach is the best one if buidling and its structural components are not going to fall or collapse. This is the case with the buildings in most of the developed countries; including USA. Technological advancements have made events of building collpase quite rare even in worst quakes! With a greater understanding of Structural Engineering, thereby with the help of advanced analytical and design methodology along with the use of modern seismic control devices as Seismic Dampers, Base Isolators, Tuned Mass Dampers made this "safety level" possible.
Drop, Cover and Hold on approach is a scientific technique to remain safe for the people residing inside the building structures where casualties are likely due to falling of non-structural objects and objects flying through the air with building's structural system remaining nearly intact. Scenario in modern developed countries is - around 55 percent of injuries come from the non-structural objects hurtling through the air.  Only 1 percent of injuries are caused by building damage/collapse !
In developing and underdeveloped countries; inluding ours - non-engineered constructions are prevalent; where most of the structures are built in technical knowhow of local contractors/masons. In such, most of the structures are prone to collapse in major quakes as seen in past earthquakes in Turkey, Iran, India, Haiti and others.

It is estimated that in our context, only 5% of the total structures built have had proper earthquake safety designs. Occurence of powerful earthquake is expected to cause complete collapse of at least 30% of the total building structures. 40% of them are likely to suffer extensive damage or partial collapse. Only around 30% are expected to remain intact.

(*Pancake : A progressive type of collapse initiated by the failure of a vertical element(s) at the upper floors thereby gradually collapsing the storeys below due to dynamic impact from the upper floors falling down. For instance, failure of WTC)



Concept of Triangle of Life (TOL) is entirely different from the DCH approach. DCH presumes that buidling is not going to fall; whereas, TOL presumes failure. DCH urges to hide under the sturdy furnitures/objects, whereas, TOL recommends to stay "beside" such studry objects (refer Figs-2 below).
Triangle of Life (TOL) is basically a void identification method that is likely to be formed inside a collapsed building. TOL is based on the assumption that when buildings collapse, the weight of the ceilings falling upon the objects or furniture tends to crush them, however, the height of the object that "remains" acts as a kind of sloping roof beam over the space; thereby forming a void. This space or void is referred as "Triangle of Life" that could be used for survival. Please refer Figs-2 below. The larger and stronger the object, lesser it compacts and less it compacts larger the size of such voids. Such triangles are the most common shape to be found in a collapsed building as per the proponent of this safety approach.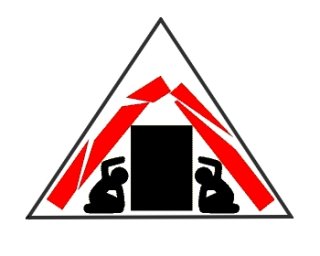 (Conceptual representation on formation of Triangles)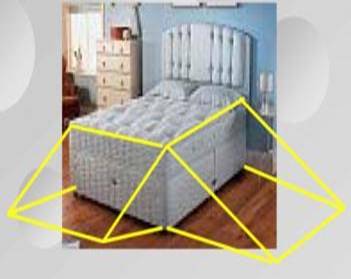 (Probable formation of Triangles next to bed)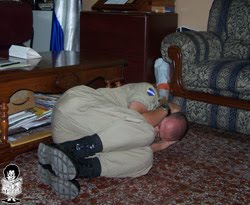 (A person in a fetal position lying inside the Triangle of Life)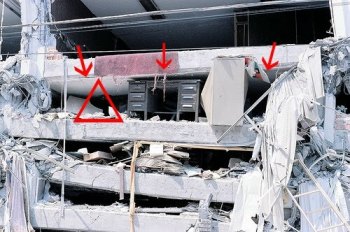 (Formation of Triangle of Life observed*)


(Figs 2 : Schematic and practical demonstration on Triangle of Life, TOL, approach)

According to TOL theory, when buildings collapse, weight of the ceilings falling upon the objects or furniture inside crushes these objects, leaving a space or void next to them. This space is what is termed as the 'Triangle Of Life' (TOL). Larger and stronger the objects, lesser it compacts. Less the object compacts, larger will be the size of the void and greater the probability of the person's survival who is using this void for safety hence will not be injured. Numbers of such traingles could be seen everywhere in the collapsed buildings. These are the most common shapes one will find in a collapsed building.
Safe evacuation refers to "get out of the building you are in" using an escape route to the open spaces outside; safely. This method is suitable for the low-rised, small scaled structures; as residential buildings with few people inside.
If people inside a building can walk after the shaking starts and building is low-rised then Safe Evacuation approach could be the best option provided that there is few people inside. It is to be remembered that earthquake induced ground motions are rarely of uniform type. It is a random excitation with amplitudes fluctuating in a random fashion. Peak amplitudes usually occur after a few seconds/minutes. Bigger quakes usually lasts for more than a minute; usually for several minutes. Peak amplitude of motion delays by sometime after the shaking starts. It is after the generation of the peak amplitude when most of the building collapses.
In the recorded time-history of great sumatra earthquake (Indonesia) in December 2004 (refer Fig-3 below); this significant lagging period between initiation of quake to quake's peak could be clearly seen.



(Fig 3 : Recorded Time History of the earthquake that hit Sumatra, Indonesia measuring Mw 9.1-9.3 on 26-December-2004)
Even during the historic 1934 Nepal-India quake of M 8.4, that lasted up-to 5 mins; a peak amplitude was observed around 2.5 mins. after the initiation of the earthquake. Large numbers of people fled away from their homes to the open spaces outside within this 2.5 mins; whereas their house collapsed after this peak shaking !!! Also, during a relatively moderate earthquake of Mw 5.9 on 23-August-2011 that hit nearby Virginia state (US) shook almost all part of Washington DC (141 Km away from the epicenter); people were out on the streets at Pennsylvania Avenue in Washington following the event as seen in the picture below (refer Fig-4 below).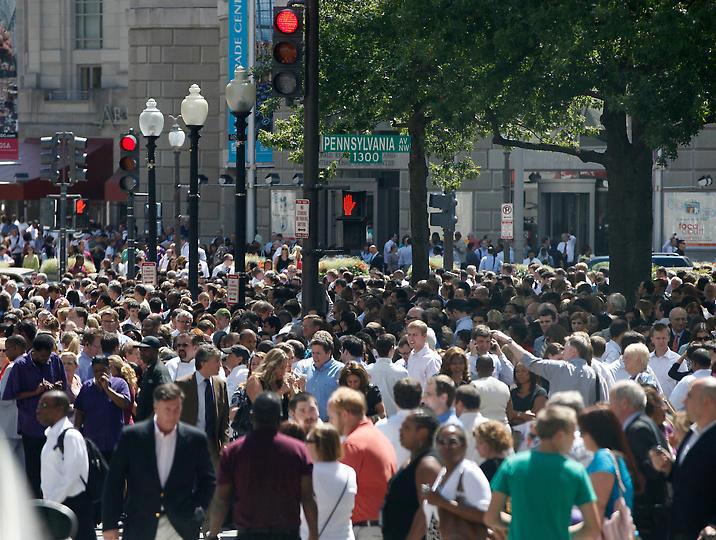 (Fig 4 : People were seen out on the streets at Pennsylvania Avenue in Washington following the earthquake measuring Mw 5.9 on 23-August-2011 that hit nearby Virginia state, US)
Seismic Retrofitting Option as a Prevention / Precaution
As prevention is always better, strengthening of the existing structure also known as "Seismic Retrofitting" is always recommended. Seismic Retrofitting is a technique to strengthen the existing weak structure applying various techniques after proper study. Retrofitting Techniques include;
Reinforced Concrete Jacketing
Steel Jacketing
Fibre Jacketing
Addition of New Structural Elements
Addition of Seismic Control Devices
Earthquake Safety Assessment (ESA) is carried out to find out whether a structure is safe in earthquakes. Seismic Retrofitting is then carried out as per the need of the structure if found necessary in ESA. Apartments and other high-rised structures and buildings of public interests are strongly advised to get retrofitted if found necessary from ESA report. Also, ample open space around such buildings shall be provided.
The above mentioned safety approaches are less likely feasible in such buildings if they fail in ESA.
Which method is suitable to us if an earthquake strikes ?
Suitability of the safety measures primarily depends on whether your structure is "engineered" or "non-engineered" one. Others factors include;
Seismicity of that area
Type of the building
Location of the person inside a building
Evacuation route
Adjacent localities
Others


Engineered and non-engineered structures shall have entirely different safety approaches. Here the "engineered ones" mean properly designed structures by a licensed Structural Engineer; considering seismicity of that area, local soil conditions and other factors. Non-engineered structures are referred to the buildings constructed with little or no engineering input or with the technical know-how of masons/ contractors.
Drop, Cover and Hold - DCH approach is strongly recommended for the people residing in a large multi-storied public buildings (school, hospital, offices & others) and high rise buildings where running towards the safer zone could cause stampede or evacuation route is long enough. It should also be borne in mind that it could be practically impossible to walk during violent/severe earthquake shaking. In such, It is advised to stay inside and follow the steps of DCH rather than trying to escape and injured yourself !
Nevertheless, it should be noted that DCH approach is based on the assumption that building is not going to crumble and is strong enough to resist earthquake. Also, hiding under the furnitures is never meant to protect you from the falling building itself ! It can't be generalized as the standard safety approach in our context where 30% of buildings are expected to suffer total collapse, 40% likely to suffer extensive damage/partial collapse and only 30% remain intact. Those 30% buildings supposed to remain intact are also difficult to identify in advance as earthquake comes in "multiple shades". Same building could be highly responsive to ground motion caused by the particular earthquake and non-responsive to another one of the same magnitude but occuring at different locations.
In short, in our context, occupants residing only in 15%-30% of buildings (proper identification is essential) are safe enough to adopt DCH approach for sure. Also, hiding under the tables and desks could protect you only from the flying objects and falling non-structural debris, not from the falling building itself. If your structure had been properly designed for earthquakes or found safe in Earthquake Safety Assessment, ESA, or had been retrofitted, this approach will be extremely useful during quakes.

TOL seems to be more feasible for low-storeyed buildings. Higher storeyed buildings impounds large weight from above thus formation of survival voids as proposed by TOL would be less likely in case of failure. TOL approach is plausible for the occupants living in the residential buildings (2-3 storeyed). While adopting this approach, one should remain safe from falling of non-structural objects/utilities inside the building. Also, it could be suitable for the structures with wooden and CGI sheet roofings. Nevertheless, this approach is yet to receive recognition by the rescue agencies.
If the escape route is short & clear and there is open space outside; then, Safe Evacuation approach could be the best approach to follow. "No need to hide inside the building if you can readily get outside of the building unless it is known that building has absolutely safe modern earthquake protection measures" Suppose if you are at the ground floor and escape route is short & clear then walking out of the building to the open area could be the safest one. People residing in residential buildings (1-2 storeyed) could find this approach useful. However, it should be borne in mind that in major quakes, due to intense ground shaking, normal walking will be quite difficult and dangerous too ! Also, this approach shall not be adopted if you are at the upper floors of the high-rise/large buildings. People residing inside the buildings with mass-movement as public buildings/apartments shall not adopt this approach. Large numbers of people fleeing outside could cause stampede. Precautionary measures as prior safety assessment and application of retrofitting technique (if needed) could be the best option for such buildings.
(As the safety approach depends on type of your building and several other factors, it is advised to consult your Structural Engineer to determine the right kind of safety approach suitable to your building. Also the best way to keep yourself protected is to get your building retrofitted if found weak in Earthquake Safety Assessment, ESA, by a professional Structural Engineer. You can consult us at safety@buildingresearch.com.np)